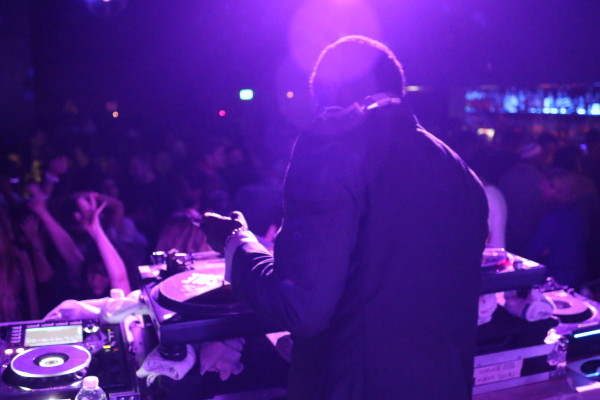 Beautiful night at Funky Sole last night…it's almost always a beautiful night at Funky Sole, mind you, but last night was especially beautiful. Part of it was some new lights that bathed the entire club in Blue (which is my favorite color), but also it was beautiful to be with a crowd of dancers as Clifton paid tribute to Prince to close out the last hour of the night, with the shades of Blue replaced by Purple.
For my part, I put together a solid set, no Prince involved in it, since I knew that's how we would close (and also, quite frankly, I don't have a lot of Prince on vinyl, though it was nice to play my copy of "Take Me With U" as the "Last Call" song of the night).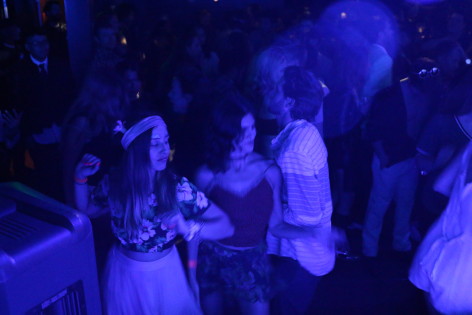 The set features a mix of deep cuts and classic breaks, with a couple of tracks inspired by "Soul Makossa," before playing one of my favorite club cuts from the Makossa man himself. Also kicked things up a notch tempo-wise late in the set, with some extra upbeat songs that really tested the dancers. At some point I'm going to clear this dance floor, but as of yet all of my attempts have failed, the Funky Sole faithful are a stalwart bunch. I was especially impressed with those who got down while James Black was letting loose on the Mary Jane Hooper song near the end. That is just one of the many things I love about Funky Sole and why it's the space I feel most comfortable dancing myself. Great crowd, great space, great sound and great DJs. Big thanks as always to Miles, Clifton, Nancy, Yenny and everyone else. Enjoy the sounds and check our Facebook page for a little bit of video from the Prince tribute.
Guest DJ Set at Funky Sole: 04-23-2016
Funky Sole: 04-23-2016
1. The Nite-Liters – Con-Funk-Shun – The Nite-Liters (RCA)
2. Marília Pêra- Shirley Sexy – O Cafona: Original Soundtrack (Som Livre)
3. Armando Travioli – Sessomatto – How Can Sex Be Funny: Original Soundtrack (West End)
4. Mandingo – The Headhunter – III (EMI)
5. Manu Dibango – New Bell – Soul Makossa (Atlantic)
6. Gary Bartz & the NTU Troop – Dr. Follow's Dance – Follow, The Medicine Man (Prestige)
7. James Brown – Sayin' It & Doin' It – Hell (Polydor)
8. Myra Barnes – Super Good Pt. 1 – 7″ (King)
9. The Unemployed – They Won't Let Me – 7″ (Cotillion)
10. Lonette McKee – Stop (Don't Worry About It) – 7″ (M-S)
11. Billy Garner – I Got Some Pt. 1 – 7″ (BGP)
12. The People's Choice – Big Ladies Man – 7″ (Phil L.A. of Soul)
13. John Ellison – You've Got To Have Rhythm – 7″ (Phil L.A. of Soul)
14. Marva Whitney – Unwind Yourself – It's My Thing (Famous Flame)
15. The Chevelles – The Gallop – 7″ (Flaming Arrow)
16. Franciene Thomas – I'll Be There – 7″ (Tragar)
17. Mr. Pitiful & the Ghettos – Ghetto Stroll – 7″ (Equator)
18. Mary Jane Hooper – I've Got What You Need – James Black: (I Need) Altitude (Night Train International)
19. The Sandpebbles – Forget It – 7″ (Calla)