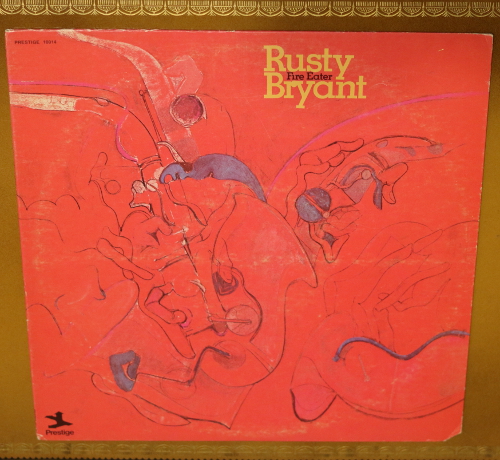 Today would have been Matthew Africa's 43rd birthday. As has been the case since his passing in 2012, on this day I pay tribute to my friend by posting about a record that I connect with him or that connected him to me. This record in particular is special for a couple of reasons. First, it actually came from Matthew's collection, much of which has been auctioned off on Ebay, with proceeds going to his family (including a number of records that are up right now).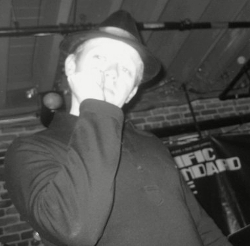 The second and major reason this record is special is because of the place it holds in my history as a DJ and record collector. Rusty Bryant's "Fire Eater," maybe more so than any other piece of rare soul-jazz, ignited the passion I have for vinyl. If you've ever heard the "Fire Eater" you can understand how it might have that effect. It's without a doubt the best song and the main reason to get this album. Now, that's not to say that the other three tracks on the album aren't great, they are. "Free At Last" and "The Hooker" solid slower tempo songs, and "Mister S." is a capable up tempo soul-jazz groover…but they're not in the same league with "Fire Eater." Nothing I've heard before or since is in the same league as "Fire Eater."
I first heard this song on a collection put out by Luv'n'Haight back in 1993 (I think I got a copy of it in 1994 or 1995) called Jazz Dance Classics, Vol. 1. This collection and this series was instrumental in getting me to move beyond CDs and cassettes and to search and dig for sounds that were no longer in print, that formed the backbone of Hip-Hop or that few people had heard before. Essentially my whole career as a DJ, at least what has distinguished me from many other DJs over the years, began with that collection. It wasn't until a decade later, and 4 or 5 years after I already knew Matthew that I even realized that this classic collection had been compiled by Matthew Africa. One of the things that I am most thankful for is that I was able to let him know what a profound effect he'd had on me simply by doing what he did best, sharing the music that he enjoyed.
Listening to "Fire Eater" is easy to see why Matthew chose this one as the centerpiece of that collection. It's an absolute fucking monster. There's nothing I can say about it that improves on what Matthew said back in 1993, so I'll just leave it to him:
"A few months ago I played a certain Rusty Bryant track on Beni B's radio show here in Berkeley and the response was astounding –within moments the station was flooded with callers begging to know what they were listening to. One caller who couldn't get through came all the way down to the station! Why? If you have to ask, you've never heard Fire Eater. What is it? A raw and rampaging slice of pure jazz funk. Rusty more than holds his own, but the track is dominated by Bill Mason's hammering organ and Idris Muhammad's brutal drums. Well worth the price of admission."

In the years since I came into contact with that collection, later on tracking down the original record, I've played this record now on four different radio stations in three different states. Without fail someone will call up in a slightly crazed, dazed or shocked manner, asking what song this is, (generally about halfway through Bill Mason's fiery solo on Hammond B-3). When I think back about all those times, I think about Matthew playing it at KALX for the first time and wondering what kind of effect that had on him. I'm not sure, maybe Beni knows, but I wonder if the response the "Fire Eater" got, along with other gems Matthew used to throw on, was the thing that finally convinced him to host his own show. Maybe I'll never know, that is part of the tragedy of losing people you care for, you're never able to answer the questions you never asked when they were here. But we do have our stories, and those of us who knew Matthew have many stories and so much music to remind us of him, for that I am eternally grateful.
Peace be with you,
Michael