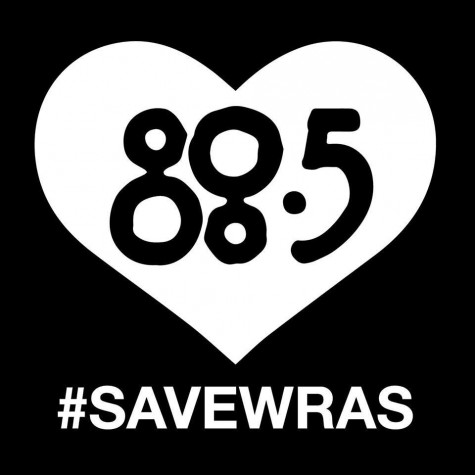 A few weeks ago, in the midst of grading papers during the final week of classes at Long Beach, I heard news that was unbelievably shocking. Georgia State University, in my home town of Atlanta, made a deal with Georgia Public Broadcasting that effectively spells the demise of one of the largest and most respected college radio stations in the entire country, WRAS Atlanta, Album 88. I got my start in radio at Album 88 from 1993-1998, hosting a variety of shows and serving as an Assistant Program Director and Music Director. There is no way to quantify the effect working at the station had on my life. When I arrived at GSU I was convinced that my future career would be in radio. Unable to continue playing the sport I loved, baseball, I thought being a sports broadcaster would be a nice consolation prize. I didn't waste much time getting on the wait list to be trained at Album 88 and while I thought it would be a great learning experience, I got so much more out of it than I ever could have possibly dreamed. Working at Album 88 completely changed my life, opened me up to music I never would have experienced otherwise, gave me my first real experience teaching and training others and brought me into contact with some of the most creative people I've ever known. It made me a better person and made me realize that I didn't need a degree in order to be in radio, and I'd be much happier NOT going for a commercial, mainstream radio gig. It got me to really focus on what was most important to my life, changing my career path to focus on teaching, while continuing to champion music that was rarely heard on commercial/mainstream stations. The experience started what has now been a 20 year career in non-commercial radio, spanning four other stations. There's no telling where I would be without Album 88.
So, when I heard that GSU had sold the station out, waiting to announce the deal until essentially all of the students had left campus at the end of the school year, even though they had been secretly working things out for at least 6 months prior, I completely freaked out. In recent years we've seen college campuses outright sell their radio stations away, KUSF in San Francisco and Vanderbilt's WRVU being just a couple of the notable examples. But surely WRAS would be safe, the largest student run station in the country, with 100,000 watts, a 40+ legacy that includes being THE place where Bob Geldof got the inspiration to write "I Don't Like Mondays," exposing R.E.M. and the Athens sound in the 1980s, being the first place to play Outkast, Goodie Mob and other Hip-Hop artists that put Atlanta on the map…it couldn't happen to WRAS! But it has, and in a deal that makes no logical sense Georgia State sold out the students for a paltry $150,000 over two years and "access" to GPB that the Journalism and Communications departments likely already had. The whole deal is fishy and while students are still "allowed" to broadcast on-air from 7pm – 5am, the rest of the time has been taken by GPB, which already broadcasts material elsewhere in Georgia on dozens of stations and carries the same NPR shows that every other NPR station in this country plays.
Album 88 isn't just any station, it's the crown jewel of College Radio. If WRAS can be stolen from the students, any station, including KALX Berkeley or KXLU here in LA can be taken away too, and that should scare the hell out of every single person who cares about non-commercial radio. Thankfully, the students and alumni of the station have organized are doing whatever they can to halt this deal. The administration must have really thought that WRAS stood for, "We Really Are Stoned," to think that students wouldn't go down without a fight! I wanted to do what I could and chose to dedicate this past Sunday's show to my experiences at Album 88, playing music that I never would have found or heard if not for the station. The five years I spent there were so rich that there's no way to do it justice in 2 hours, but I had to do something. I may not be able to protest in person, but I can add my voice, and since the students can't do it themselves on their own airwaves, I've tried to bring attention to it here on my show.
As I mention at the end of the show, I don't want to imagine a world with Album 88, that some kid born in 2014 will grow up without the opportunities that I had, opportunities that changed my life, is something that I just cannot accept without doing all that I can to protect the station that means so much to me and to so many others. If you care about non-commercial radio, especially college radio. Please take time to learn more about the situation at WRAS and join the "Save WRAS" campaign:
SAVE WRAS website: http://savewras.com/
SAVE WRAS on Facebook: https://www.facebook.com/savemywras
SAVE WRAS on Twitter: https://twitter.com/SaveWRAS
Change.Org Petition To Stop GPB's Takeover of WRAS:  click here
Melting Pot on KPFK #164: First Hour
Melting Pot on KPFK #164: Second Hour
Playlist: 05-25-2014
SAVE WRAS Tribute Show

{opening theme} Booker T & the MGs – Melting Pot – Melting Pot (Stax)
{You can thank Album 88's Daryl "G-Wiz" Felker, the most skilled live DJ I've ever known, for introducing me to this b-boy classic, which took me a few years to really appreciate. I remember first hearing it and thinking, "Where's the Break?" Thankfully I kept listening and it serves as the best theme song I've ever had in my 20+ years on radio.}
~~~~ Break ~~~~

Talk Talk – Ascension Day – Laughing Stock (Verve)
{My first distinct memory of Album 88 was connected to this song, which I had recorded on a cassette during my sophomore year of high school. By senior year I exclusively listened to Album 88 on the radio}

Max Roach – Garvey's Ghost – Percussion Bitter Sweet (Impulse)
{One of my proudest accomplishments at Album 88 was bringing jazz back on it's airwaves through the Blue Note (a show that still occupies Sundays 12-2pm on WRAS, though that will change along with all the other daytime programming if this deal goes through), along with James Diggs and Daryl "G-Wiz" Felker. That jazz show eventually led to the extraordinary privilege of interviewing Max Roach, one of my favorite musicians and activists, spending hours with him, from the ride over to the station to the interview itself is one of the greatest moments of my life, along with interviewing Bobby Seale of the Black Panthers, also at Album 88}
Booker T & the MGs – LA Jazz Song – Melting Pot (Stax)
{Before I came to Album 88 I mostly bought CDs and cassettes. Hanging around skilled Hip-Hop DJs like G-Wiz, Randall Moore,Talib Shabazz, Jaycee and Applejac pushed me to start digging in the crates and gave me a greater appreciation for music in general and Hip-Hop in particular, my ears have never been the same}
~~~~ Break ~~~~
Dr. John – Mama Roux – Gris Gris (Atco)
{One of the first shows that I worked on at the station was a blues show called "Crossroads" with Yancy Yohannon. I had a decent amount of knowledge about the blues, but my appreciation of that genre and especially for the music of New Orleans was deepened by having access to the amazing library of music at Album 88. One of the first discoveries was the music of Dr. John, like a lot of the artists in this program, someone who now is one of my favorite artists.}

Ivan Boogaloo Joe Jones – Sweetback – Bag Of Goodies (Luv'n'Haight)
{the second show I worked on at Album 88 was Soul Kitchen, which I took up after Crystal Jaudon. She'd fought hard to get Soul Kitchen as a monthly program and I took a lot of pride in being able to keep the show going (a show that also has become a regular fixture of the WRAS schedule). At a time when there wasn't much on the internet and ebay hadn't kicked off yet, there wasn't nearly as much awareness of rare soul and funk. Labels like Luv'n'Haight started reissuing out of print works and kept us digging for the rare and funky, something I clear keep up to this day}

Dat Bu – Village – 12" (Self-Released)
{Rhythm & Vibes was the legendary Hip-Hop show at WRAS, in high school like a lot of Atlanta area youth, I made tapes and listened in cause it was the only place in the early 1990s where you could hear "real" Hip-Hop. They also made a consistent effort to bring attention to Atlanta's Hip-Hop scene, ultimately breaking groups like Goodie Mob and Outkast. Dat Bu was Atlanta group that along with Mass Influence was one of my faves. I actually ran into DJ Kemit, who produced the band at a record show and got to interview him for my dissertation on Hip-Hop years later}

24 Carat Black – 24 Carat Black Theme – Jazz Dance Classics Vol. 1 (Luv'n'Haight)
{Another track that got serious play on Soul Kitchen, from the collection that introduced me to Matthew Africa}
~~~~ Break ~~~~
Gil Scott-Heron – Must Be Something – First Minute Of A New Day (Arista)
{I never would have heard of Gil Scott-Heron if not for Album 88, I remember doing a day-time regular rotation slot and someone requesting Gil Scott-Heron and we had this record on the wall. The caller requested "Ain't No Such Thing As Superman" and I when I dropped the needle on it I was mesmerized and became a fan for life. "Must Be Something" just seemed to fit this moment better.}
Cymande – Getting It Back – Cymande (Janus)
{I heard Cymande on WRVU, while driving back to Atlanta from a trip to Wisconsin. It's quite possible that I heard on the radio show that Egon from Stones Throw/Now-Again did at that period of time. I actually pulled over to the side of the road and used a pay-phone to call the station to figure out what the music was and tracked down a CD reissue of it within a week to share with the listeners on Album 88. WRVU on-air presence has already been taken away from students there, which makes the fight at WRAS even more pressing.}

Pharaoh Sanders – Astral Traveling – Irrepressible Impulse (Impulse)
{Part of what we tried to do on the Blue Note was to play jazz that other stations didn't play, jazz-funk, avant-garde, rare hard-bop and spiritual jazz like this work from Pharoah Sanders. In Atlanta there was a jazz station WCLK, but on Sundays they played Gospel, so we were the only place for people to hear Jazz at that time.}
~~~~ Break ~~~~

Paul Butterfield Blues Band – Got A Mind To Give Up Living – East West (Elektra)
{In 1994 I did my first freeform at WRAS, a 25th anniversary program on Woodstock. The preparation for that show led me to becoming a fan of the Butterfield Blues Band, several records of which I found at the station stacked up in piles above the regular CDs and albums. Butterfield's band was a gateway into a lot of incredible 1960s music, much of which I continue to share on this blog.}

Rahsaan Roland Kirk – Kirk's Work – Funk Underneath (Prestige)
{Rahsaan Roland Kirk is my single favorite artist of all-time and the patron saint of Melting Pot. I didn't learn about Rahsaan because of WRAS, but I did hear his music for the first time while I was at the station during a period of time of music discovery that never would have happened if I hadn't worked at the station.}

Tom Waits – Diamonds On My Windshield – Heart Of Saturday Night (Asylum)
{While at Album 88 I started to really get into the Beat writers like Kerouac and through that I got introduced to the music of Tom Waits, initially through this Beat inspired song from his second record. Waits music was a constant presence on my regular rotation shows at Album 88. Whenever I moved to a different slot during the day I would end with "Anywhere I Lay My Head," which also was the last song I played at KCRW before moving to KPFK here in Los Angeles.}

T-Bone Walker – The Hustle Is On – Classics Of Modern Blues (Blue Note)
{Another discovery due to the library at Album 88, where there was an incredible two-disc set of Walker's legendary sides for Imperial in the early 1950s. I was a major fan of Jimi Hendrix from an early age and clearly saw and heard the influence Walker had on him. Hearing Walker's solos and seeing pictures of him playing his guitar behind his head or swaying to the beat with it as he sang made me rethink what I thought about pre-1960s music and broadened my appreciation of music in general.}
Charlie Musselwhite – 4PM – Stand Back! (Vanguard)
{I didn't get a chance to interview him, Yancy did, but it was through a partnership with a local record store who did underwriting for Crossroads that I came across this record, which introduced me to one of my favorite guitar players, the king of sustains, Harvey Mandel.}
~~~~ Break ~~~~

Fela Kuti – Sorrow, Tears & Blood – Black President (Arista)
{Back in the early 1990s very few people, in the South at least, had heard Fela's music. Every time I played it, people would call up wondering who the artist was and how they could get the music, which was really difficult to get around that period of time. I remember Andrew Barker of the Gold Sparkle Band, a local Jazz outfit, being a big fan and talking to him about the music, eventually leading to getting music from his band and collaborations he did with Charles Waters. Both joined me in the studio for the Max Roach interview, that kind of immediate connection to listeners and local musicians through sharing of cherished music was just one of the many special joys of working at Album 88, and one of the biggest reasons we should defend it and all non-commercial radio stations.}
Reflection Eternal – 2000 Seasons – 12" (Rawkus)
{This 12″ came out towards the end of my time at Album 88, and what we now know was the end of the "Golden Era" of Hip-Hop. Along with the flipside "Fortified Live" this might be my single favorite 12″ from the 1990s. Something that DJs on the Bomb and Rhythm & Vibes played frequently. Once Hip-Hop went mainstream in the 1990s, the music got narrowed as is generally the case with commercial radio. Non-commercial and college stations like WRAS continue to champion the true diversity of Hip-Hop and other genres, a lesson I learned first hand.}
Jimmy Smith – Root Down – Root Down and Get It (Verve)
{One of my proudest moments was finding this record in Bill Wolfe's crates at the Atlanta Record show. Back then I had a policy of not playing the same song twice on any of my shows, but since I was doing three or four different shows when I found it, I'm pretty sure I played it once on each show, maybe even the punk rock show as background music.}
~~~~ Break ~~~~

Lois feat. Elliot Smith – Rougher – Infinity Plus (K Recs)
{Album 88's legacy was mostly built as a college rock station. In that capacity they broke artists throughout the 1980s and 1990s, even as "Alternative" music became commercially viable. During those "Heroic Years" of independent music, a lot of artists came into the studio for interview and perform, several of them, including Jeff Buckley and Elliot Smith are sadly no longer with us, which makes a station like WRAS that recognizes talent long before the rest of the world catches up is so vitally important.}
The Louvin Bros. – Just Rehearsin' – The Louvin Bros. (Capitol)
{My good friend Christopher Simony, who I was a co-music director with in 1996-7, started up a classic country show called Cowtippers Delight while we were at the station. At the time I was one of those, "I like everything but Country" kind of people, Chris changed that and I'm pretty sure him playing the Louvin Bros. was the thing that made me rethink things and I'm sure that show expanded a lot of people's minds, with sounds that are exceptionally rare to hear on the radio.}

The New York Dolls – Bad Girls – The New York Dolls (Mercury)
{The New York Dolls are one of my favorite bands, and I owe it all to Christy and Brian Montero's show the Outer Limits. Because I was always doing free-form shows highlighting artists or styles of music, I often would be getting ready to go on the air as their show was ending. At some point they were playing the New York Dolls, and I flipped out for the band that Brian described as the "Single Greatest American Rock'n'Roll Band." I've been a fan ever since and haven't found a reason to argue with him yet.}
~~~~ Break ~~~~

{closing theme} Canned Heat – Marie Laveau – Boogie with Canned Heat (Liberty)
{I discovered this particular album from Canned Heat in another one of those ubiquitous stacks of records that were just all over the station in the early 1990s. "Marie Laveau" was often the theme song to start Crossroads when I did that show, during my last broadcast in 1998, I used it as a closing theme, which it seems to fit a bit better. It seemed like the right way to end this tribute show, though I sincerely hope it's not closing time for WRAS.}