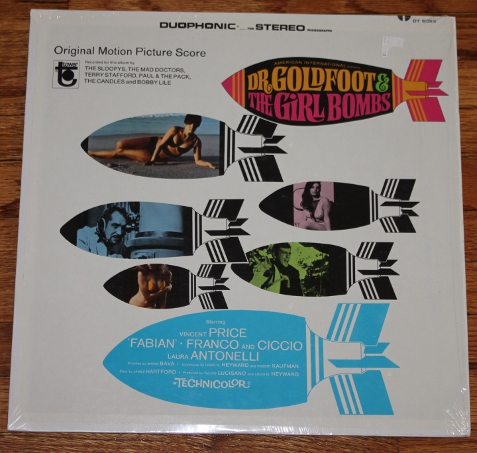 Paul and the Pack – Hidin' From Myself
The Mad Doctors – The Mad Mad Doctor
Terry Stafford – Try My World Little Girl
I'm pretty sure the first copy of this I got at Amoeba Berkeley in their soundtrack section on the cheap, a couple years ago I ran into a sealed copy at Atomic still at the relatively affordable price of $10. Dr. Goldfoot was a thoroughly campy 1960s film that later on became a bit of the inspiration for the first Austin Powers movie. I'd seen the film back when I worked at Four Star video in Madison, WI, so when I saw the soundtrack I picked it up vaguely remembering the music as being in the swinging 60s variety.
Like a number of soundtracks on the Tower/Sidewalk labels, most of the artists aren't particularly well-known, though Les Baxter does some composing work and likely had a hand in the sessions, and most of the tracks are nothing to write home about. But, the tracks that are good, to my ears at least are VERY good. "The Mad Mad Doctor" is actually one of my favorite instrumental tracks from around this period of time. It's a great track to start off a night of music, really sets the tone right with those great organ lines at the start and that beat.
"Hidin' From Myself" sounds like the kind of thing that I'd expect someone to pull out on a white label at a Northern Soul party. Perhaps the vocals aren't as stellar as they could be, but I love that beat and I'm a well known sucker for some well placed handclaps.
The real surprise on this album continues to be Terry Stafford's "Try My World Little Girl." First off I was surprised that Stafford actually had a couple of hits, including a #3 hit with the song "Suspicion" (which does sound suspiciously a bit too much like Elvis). Similar to that song "Little Girl" has a back beat that is at once totally conventional and totally off-the-wall. I'm not sure whether or not that's a moog or a theremin that's responsible for the odd sounds in the background of the song and in the breakdown but it gives the track a unique feel that elevates it so far above Stafford's vocal performance.
If you are a fan of mid-1960s spy spoofs, the film is worth tracking down, if only to see Vincent Price get goofy:
Cheers,
Michael