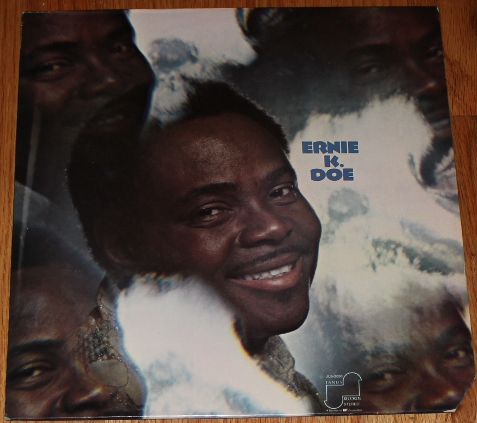 Ernie K. Doe – Fly Away With Me
Ernie K. Doe – Back Street Lover
Ernie K. Doe – Lawdy Mama
I'm a busy busy little beaver right now, so here's a quick no-brainer. This is one I don't come across too often. Ernie K. Doe (real last name = Kador), had a #1 pop hit with his 1961 classic "Mother-In-Law," but was never able to capture those heights again. This LP didn't deliver in 1970, though it's lead track/single "Here Come The Girls" has become one of the most recognizable NOLA Soul songs in recent years.
As big a song as "Here Come The Girls" seems to be today (it's use in a commercial in 2007 actually took it to the top of the UK charts), it didn't seem to make that much of a dent in the national charts back in 1970. That's quite a shame because this is a pretty solid LP of NOLA soul & funk. Produced by Allen Toussaint and featuring what seems to me to be about 3/5's of the Mighty Meters (Seems like George Porter's bass and Zig Modeliste's drums throughout, sometimes the guitar sounds a lot like Leo Nocentelli, but the Neville's don't seem to be involved, Toussaint seems to be on the keys here) the album features Ernie K. Doe and the gang in fine funky form on tracks like "Lawdy Mama," and "Back Street Lover," and seriously layin' in the cut on my personal fave, "Fly Away With Me." Though those are the funkiest, the whole album has a great sound and is the kind of thing most everybody should dig on.
Cheers,
Michael
…and only because it's one of my all-time favorite NOLA Soul songs, here's "Here Come The Girls" too!